A few years back, I wanted to start a blog because I have heard that some people earn money by blogging.
First of all, I want to tell you that this is not a tutorial on "how to start blogging". If you are looking for such a tutorial, you can learn from the site I have recommended in this post. In this post, I will tell you how I started blogging with zero knowledge of it.
Selection of Blogging Platform
So, I started learning WordPress and Joomla. Then I found that WordPress is the most popular and easy, and it is the best Content Management System (CMS) to start blogging. You can see the popularity of WordPress CMS from the graph below.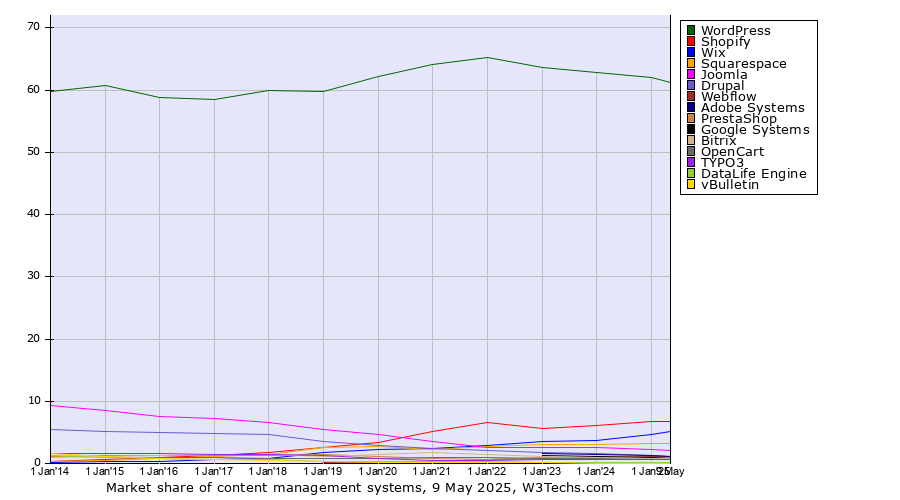 Selection of hosting services
As a beginner, I wanted to start free or at a low cost. But that was a bad decision. I will tell you why.
I created a blog in wordpress.com using the free wordpress.com domain. I created some blog posts and waited for visitors to come. No one came. I did not have proper knowledge of SEO at that time.
Then I purchased a domain name from GoDaddy for a very cheap price using a promo code. I searched for a free web hosting service and found 000webhost. I created a self-hosted WordPress website in 000webhost. And I added a few blog posts. But again, no one came to my site. After that, I did not renew the domain, and I gave up blogging.
After some time, again, I decided to create a blog. So, I purchased my old domain again (I was lucky that no one had taken the domain) from 1and1.com. I purchased a hosting plan also from 1and1.com. But I could not understand their platform at that time and tried to contact support. I waited for one-two days for their reply. They did not reply. So, I made a complaint to Paypal and got my money back.
Then I purchased hosting from inmotionhosting.com. And created a WordPress website with my previous domain. I added a few posts, and only a few people came to my site. But this time, I had watched so many YouTube videos and read so many articles on blogging. So I did not give up. I improved my blog using the recommended WordPress plugins and technics.
Initially, I did not know what niche I should choose. So I added posts related to various niches and categories. A few months later, I noted that some of my posts are getting considerable traffic. So I created two other blogs and moved blog posts to related blogs (I even had tech blog posts and travel blog posts in the same blog). Then I could gradually increase the traffic to my blogs. About one year later, I was able to get Adsense approval.
When traffic comes to my blog, I found my blog is very slow, and uptime was around 90%. I had a shared hosting package from InMotion Hosting. I complained to InMotion Hosting, and they moved my sites to another server. But the problem did not solve.
Then I started searching for the best hosting for bloggers. Then I found Cloudways, Managed Cloud Hosting Platform.
I found a coupon code with $50 free credits. I created a Cloudways account and moved all my blogs to Cloudways using their own migrating WordPress plugin.
So, finally, I selected Cloudways as my hosting service. There are many benefits select in selecting the Cloudways, and still happy with my selection.
When I was using the shared hosting, I spent a lot of time optimizing my site for speed. And also, it had a very high downtime. But with Cloudways, I could overcome both issues. I was able to put more time into improving the content on my blog. Cloudways is a little bit costly when compared to shared hosting. But, if you're going to earn money by blogging, invest that money and try to earn what you spent as soon as possible.
Finding topics to write blog posts
It was not easy for me to find topics to write articles.
One day, I wanted to download high-resolution Google map images for office work. I found a way to do it from Google Search. Then I wrote this method as a blog post and published it on my blog. I found a similar question on Quora. I put that question as the title of the blog post. Then a few weeks later, it started getting a lot of traffic compared to my other blog posts. Anyhow, I had written that post following SEO requirements.
The main thing that I learned from that blog post is that it is easy to get traffic if we write what people search for.
With that, I used to convert my findings required for my office work to a blog post. That way, I was able to find topics to write blog posts and build my first blog gradually.
After writing several blog posts, the readers started commenting and asking questions. Those comments and questions also gave me lots of ideas to write new blog posts.
Getting traffic to the blog
As I mentioned above, it's easy to get traffic to your blog if you write what people search for. But, it takes a few weeks to build traffic. So, I was searching for some quick method to get visitors to my blog.
I participated in traffic-sharing Facebook groups. Most of those groups require you to view, share, like others' posts, and they also committed to doing the same for you. But no guarantee. Later I realized that it is a waste of time, and I cannot find true readers from such groups. I only get short-term traffic.
Then I started working with Viral Content Bee, a social media platform helping users promote their content to their target audience. In brief, in Viral Content Bee, you can earn credits by sharing other's content on your social media accounts. Then you can assign those credits to your posts, and others can earn those credits by sharing your posts on their social media accounts. But I did not get much traffic from Viral Content Bee either.
However, my traffic was grown gradually, and 90% of my traffic was organic. So, I started focusing more on SEO while writing my blog posts. So, now I am getting effortless traffic to my blog from search engines.
Selecting the WordPress theme
There are thousands of WordPress themes out there. Your site requirements may change from time to time. You may want to change the appearance of your website accordingly. There are lots of free WordPress themes that can be used for any of your requirements.
I used to change themes whenever I wanted to change my site's appearance or add new functionalities. But, it is not easy to change the theme frequently.
Finally, I found the theme Generatepress. GeneratePress is a lightweight WordPress theme that focuses on speed, stability, and accessibility. I purchased the GeneratePress premium. After installing GeneratePress premium, I never wanted to change the theme. Because it has everything, I wanted. You can build almost any website with GeneratePress premium. And also, their support is great.
SEO tools that I am using
WordPress Plugins
WordPress is already designed for search engines. However, there are a lot of plugins that assist you in writing SEO articles.
Initially, I used Yoast SEO, the most popular SEO plugin. Later I moved to Rank Math because it has more features than Yoast. Rank Math provides most of the pro features of Yoast for free. And also, it can replace many individual WordPress plugins.
Keyword Research
For the keyword research, I used free keyword research tools such as Keyword Everywhere, Google Keyword Planner, and Ubersuggest. But later, Keyword Everywhere and Ubersuggest limited the options in the free version.
Later, I purchased a lifetime individual plan from Ubersuggest. It is 90% cheaper than many of its competitors. And its founder Neil Patel provides excellent up-to-date tutorials to learn SEO.
Grammar Correction
Good grammar is essential for SEO. I'm not good at grammar. However, there are advanced tools to show and correct your grammar mistakes. Some of them are Grammarly, Pro Writing Aid, Microsoft Editor, and Hemingway App, etc…
I use Grammarly premium, which the premium version of the most popular digital writing assistance tool.
Where to learn WordPress and blogging
There are so many online resources to learn. But, when I want to learn something, I use the following websites first.
List of common WordPress plugins I used on every WordPress websites
Below is the list of common WordPress plugins I have installed in all of my WordPress websites. They were selected based on my personal experience in blogging.
Ad Inserter
Akismet Anti-Spam
AMP
Breeze
Broken Link Checker
Cloudflare
Code Snippets
EWWW Image Optimizer
Font Awesome
GenerateBlocks
GP Premium
Grow Social by Mediavine
Hustle
Insert Headers and Footers
Jetpack by WordPress.com
PushEngage
Rank Math SEO
Rank Math SEO PRO
Safe SVG
Simple CSS
Wordfence Security
wpDiscuz
Zoho Mail
Monetization
As I mentioned at the beginning, I started blogging to get an additional income. There are multiple ways to monetize your blog traffic.
I was able to get approval for Google Adsense. However, it took more than one year to earn my first $100. Then I was able to increase my income gradually.
Recently I started using Ezoic. Ezoic is a machine learning-based advertisement testing and optimization platform. I connected my Adsense account to it. I am waiting to see the results.
Wrapping Up
I started blogging with zero knowledge of it. But gradually, I learned many things by doing it myself. This post is not a tutorial on how to start blogging. That is actually how I did.
Many blogging gurus advise you to choose a niche first. But, I started writing what I know and am interested in. Then I selected my niches based on the results of those articles. So, if you are also struggling with finding the best niche, my advice is to write anything you can. Then start finding your niche.